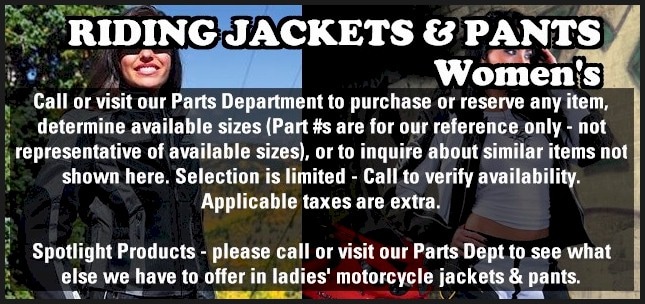 HUGE SAVINGS!!
Up to 70% off non-current women's motorcycle gear! 
We are currently in the process of updating our website! Please come check out our store to see what we have in stock!


Heated Vests / Jackets

 Black Jack

Heated Vest

83-HV-42

Reg. $109.95SALE: $99.95

Temp Control Unit Extra




Black Jack
Heated Jacket
83-HJ-36
Reg. $189.95
SALE: $159.95
Temp Control Unit Extra



E-Vest
21-45-8807
Price: $179.99
Temp Control Unit Included.


 
---
Riding Pants


 Kevlar Reinforced

50-MF-8

Price: $149.95



Pekev Lined Jeans
with Armour
74-RJL10D
Price: $149.95



Airglide 3 Black
143-WP154B-10
Reg. $279.95
SALE: $259.95



Airglide Silver
143-WP154S-18
Reg. $279.95
SALE: $259.95

 

Pro Max 2
143-WP206B-10
Reg. $339.95
SALE: $299.95